Your questions about pallet boxes answered
| Edited: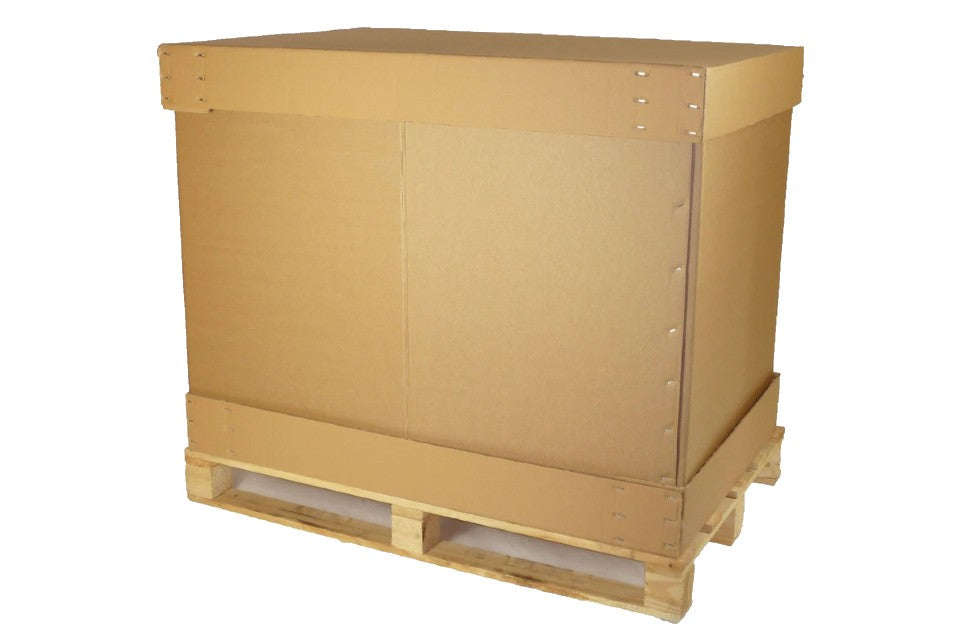 We at Sadlers are known for the quality of our boxes, none more so than our new and used pallet boxes. So who uses pallet boxes and what are they for? Read our handy Q&A to help you decide which one is right for you.
What are pallet boxes used for?
Cardboard pallet boxes provide extra protection when shipping goods on wooden pallets. These boxes minimise the risk of damage during transit. So if you need to ship products as safely as possible on pallets, you'll need pallet boxes. These boxes are also used for storage of big and bulky items.
Do pallet boxes come with a pallet?
There are different options depending on your requirements. If you do not have a supply of wooden pallets then choose a box that includes a pallet. If you have plenty of surplus pallets to use, you can buy pallet boxes without pallets. We normally have all of these options.
Do I need a heat treated pallet?
Heat treated pallets are often used when exporting goods. Our heat treated and stamped pallets allow you to comply with export regulations.
What size are pallet boxes? 
There are two types of pallet boxes: those to fit a conventional / standard pallet and those to fit a Euro pallet. A standard pallet box measures 1190mm x 990mm x 910mm and a Euro pallet box measures 1160mm x 760mm x 840mm.
What is a standard pallet size?
The standard size for a pallet is 1200mm x 1000mm. Standard pallet boxes are designed to fit standard pallets perfectly. A Euro pallet measures 1200mm x 800mm. Size is the main difference between a standard pallet and a euro pallet.
How strong are they?
Many of our pallet boxes are double wall, but we do sell tri-wall too occasionally - keep checking back for the product in the video below. They are made from strong heavy duty material which is constructed from three layers of fluting sandwiched between four liners. Take a look at our video below to see the triple wall pallet boxes in action.
Video Title: Tri wall Euro Pallet Boxes
Video Text:

Conventional box construction
Made to fit a 1200 x 800mm Euro pallet
Pallet not included
So how strong are they? (400kg crush test shown on screen)
Superb stacking strength
Excellent quality tri wall board
Are the boxes flat when I receive them?
All cardboard pallet boxes are supplied in a collapsed format and are very easy to assemble. The box arrives flat - simply remove the lid and unfold the sleeve which fits into the base, fill the box and place the lid on top. Our instructional videos demonstrate how easy it is (see below).
Video title: How to assemble a pallet box and attach it to a pallet
Video title: How to assemble a pallet box with pallet attached.
What do pallet boxes look like?
Pallet boxes are usually large corrugated double wall cardboard boxes that fit onto wooden or plastic pallets. They are normally sold with lids which are staples for extra strength. Here are some images of common pallet boxes:
Pallet box without pallet
Pallet box on a pallet
Click to see our full range of pallet boxes and all of our videos on our YouTube channel.
-------------------------------
Author: Lauren Sadler | MSc Sustainable Development

Bio: Lauren is passionate about the circular economy and enjoys writing about packaging, business and sustainability - particularly zero waste and reuse.