How This Organisation Uses Our Boxes to Get Aid to Ukraine
| Edited: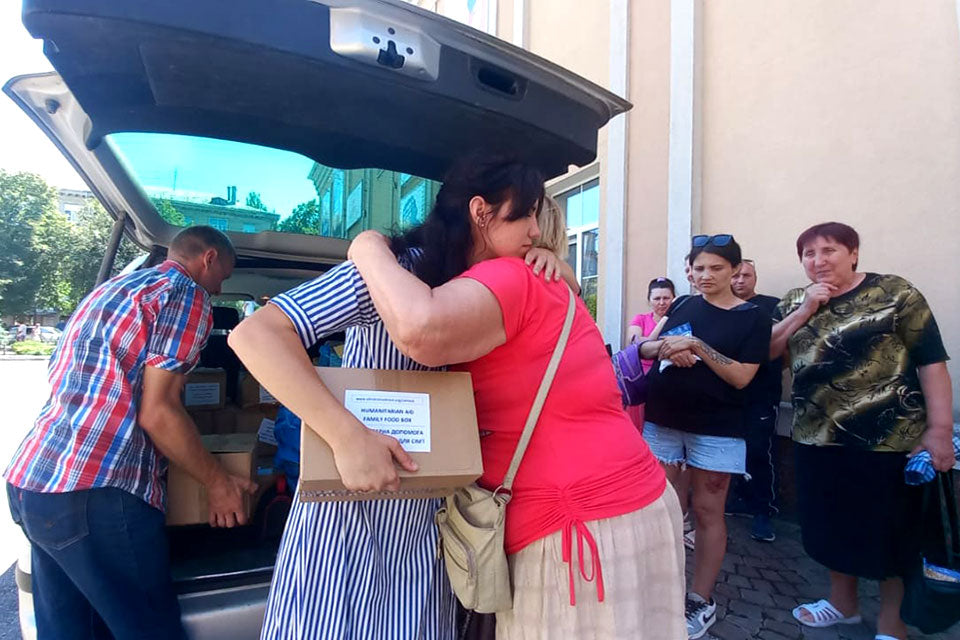 Last month we received a lovely email from a customer, Roman Baczynski, letting us know how our boxes were being used to get aid to people in Ukraine. He even sent photos of recipients of the aid so we could see the work they were doing over there. 
I was intrigued by Roman's story and asked him to explain a little more about what he does so I could share it on our blog. He was generous enough to send more photos and information and was glad for us to share it on the website.
Here's a Q&A about the project.
What is your venture called?
It's called Aid Ukraine Direct. It is not a formal charity, just a bunch of like-minded people, committing their own time and money to helping people in Ukraine.
What do you do?
We provide boxes of food and essentials for people in Ukraine. These help people that are struggling to buy food, either because they're refugees and aren't working, or have extra people in their house who've been displaced by the fighting.
What do you send in the boxes?
In it is a selection of basic food that should help feed a family for up to a week. Things like pasta, rice, flour, tinned meat, tinned fish, sugar, tinned veg, tinned fruit and we put in a packet of jelly babies to give the children a little treat. We've also started putting a small knitted teddy in each box.
"Boxes arriving in Kremenchuk Ukraine, with the pastor that distributes the aid - not afraid to get his hands dirty unloading boxes off the pallet."
"From our summer appeal - basic toiletries for a hospital in the town - washing powder, toothpaste, toothbrushes and soap."
What difference does this small box make in the lives of the families who receive them?
We hear stories of how people are moved to tears at the thought of people in the UK caring enough to collect, pack and arrange delivery of a food box to their family in Ukraine. 'It feels very personal' one younger mum told our team in Ukraine. The food really helps supplement a quite meagre diet that refugees have.
How do you get aid to Ukraine?
Our volunteers drive the boxes from the UK to Poland, then it's transported into Ukraine, palletised and delivered to Kremechuk in Eastern Ukraine where it is distributed to those in need.
"The above images show food boxes packed up and ready to go. The ones with the red tape contain basic toiletries kindly donated to our summer appeal."
What has your organisation achieved so far?
So far we've delivered over 2,500 family food boxes.
Buying boxes from Sadlers has helped us concentrate on fundraising, sourcing food/box packing and sorting transport to get the boxes to Poland. We're not wasting time going around shops scrounging boxes!
"Receiving the aid - this is a disabled woman, displaced by the fighting, left with nothing - someone in the town is letting her stay in their house."
-------------------------------
A big thank you to Roman for sharing all of this with us. Keep up the good work!
-------------------------------
Author: Lauren Sadler | MSc Sustainable Development

Bio: Lauren is passionate about the circular economy and enjoys writing about packaging, business and sustainability - particularly zero waste and reuse.