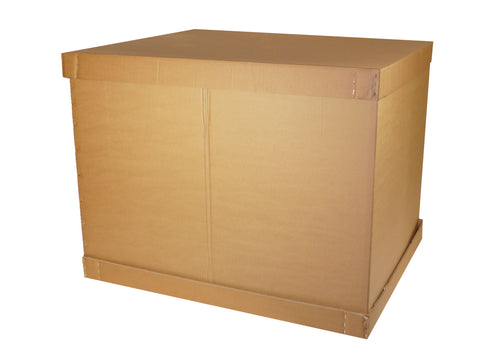 Euro Pallet Boxes Excluding Pallets
1160mm x 760mm x 840mm
Free delivery
Free delivery to many areas. Enter your full postcode for delivery options.
Our budget Euro pallet box is great for shipping bulk orders as cheaply as possible. This easy-to-assemble pallet box is one of our best sellers. We supply this item without a pallet giving you the opportunity to combine our low-cost pallet boxes with your own surplus pallets - a great way to utilise a free resource and save money. It's called 'budget' for its cost-saving benefits, not because it's a different quality. All of our pallet boxes are great quality, but with this box you can save money by using your own pallets. This is a new pallet box.

Supplied as a three part set including a sleeve, a bottom tray and a cap (or lid) they are easy to assemble - click on the video link to see how.  All components are made from a double wall corrugated board and are stitched for added strength. If you are looking for Euro sized pallet boxes with pallets check out our product references PP010 and XX030 which include a wooden pallet.
See blog post: 'Your questions about pallet boxes answered'.
Condition: New
Material: Double Wall
Print Type: Plain
Dimensions (mm): 1160 x 760 x 840
Dimensions (cm): 116.0 x 76.0 x 84.0
Dimensions (inch): 45.6 x 29.9 x 33.0
Volume (cm): 740544.0
Volume (m): 0.740544
Volume (Inch): 45190.76754
Volume (ft): 26.15206455
Orders received before 2pm will be despatched on the same day.

We deliver to all of our customers, using our own fleet of vehicles, along with parcel and pallet couriers. We deliver for free to mainland UK subject to a minimum order value. You can also order single pallet/pack consignments for a small fee.
Use our Free Delivery Checker above to see all options available.

Deliveries to Scotland and the Highlands may take up to 72 hours to arrive. For orders from Ireland and Northern Ireland please contact us first as you will need to arrange your own transport.

For more information visit our 'Delivery' page
X