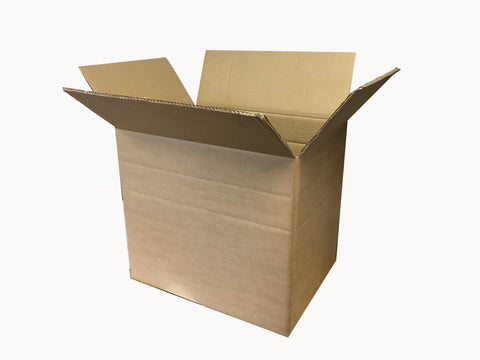 New Plain Double Wall Box
460mm x 330mm x 400mm
Free delivery
Free delivery to many areas. Enter your full postcode for delivery options.
A good quality B/C flute double wall removal box with two extra horizontal creases to enable the box height to be reduced.
The crease positions allow the top to bottom dimension to be reduced to approximately 250mm or 330mm.
Condition: New
Material: Double Wall
Print Type: Plain
Dimensions (mm): 460 x 330 x 400
Dimensions (cm): 46.0 x 33.0 x 40.0
Dimensions (inch): 18.1 x 12.9 x 15.7
Volume (cm): 60720.0
Volume (m): 0.06072
Volume (Inch): 3705.361741
Volume (ft): 2.144306563
Orders received before 2pm will be despatched on the same day.

We deliver to all of our customers, using our own fleet of vehicles, along with parcel and pallet couriers. We deliver for free to mainland UK subject to a minimum order value. You can also order single pallet/pack consignments for a small fee.
Use our Free Delivery Checker above to see all options available.

Deliveries to Scotland and the Highlands may take up to 72 hours to arrive. For orders from Ireland and Northern Ireland please contact us first as you will need to arrange your own transport.

For more information visit our 'Delivery' page
X