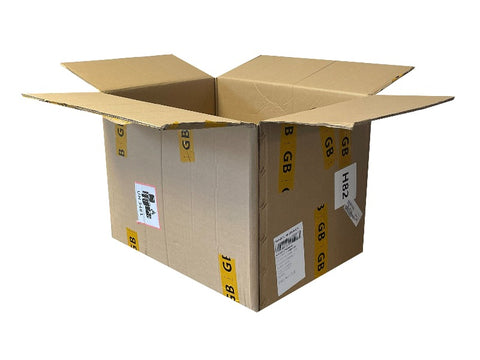 Used Printed Strong Double Wall Box
590mm x 445mm x 420mm
Free delivery
Free delivery to many areas. Enter your full postcode for delivery options.
UPDATE: If these are out of stock, you can contact us to place a back order. Alternatively, take a look at AH375 which is in stock and has good supplies.
A fantastic strong double wall box available on regular supply. Ideal for removals and shipping large or valuable items.
These large cardboard boxes were an instant hit when we launched them early in 2022 and have become a firm favourite for many. The price is exceptionally low for such a large and strong box, and used boxes are growing in popularity due to their low environmental impact. 
Despite some multi coloured tape and a small number of labels on these boxes, customers aren't put off. After all, you'll be using your own tape and labels on them when you use them to ship your products! Simply affix your own label over an existing one, and tape up as required. Or you may wish to use them for moving and storage, in which case you don't even need to think about it.
You could save up to 50% on your packaging by switching to these instead of a brand new box.
Condition: Used
Material: Strong Double Wall
Print Type: Printed
Dimensions (mm): 590 x 445 x 420
Dimensions (cm): 59.0 x 44.5 x 42.0
Dimensions (inch): 23.2 x 17.5 x 16.5
Volume (cm): 110271.0
Volume (m): 0.110271
Volume (Inch): 6729.149285
Volume (ft): 3.894183614
Orders received before 2pm will be despatched on the same day.

We deliver to all of our customers, using our own fleet of vehicles, along with parcel and pallet couriers. We deliver for free to mainland UK subject to a minimum order value. You can also order single pallet/pack consignments for a small fee.
Use our Free Delivery Checker above to see all options available.

Deliveries to Scotland and the Highlands may take up to 72 hours to arrive. For orders from Ireland and Northern Ireland please contact us first as you will need to arrange your own transport.

For more information visit our 'Delivery' page
X