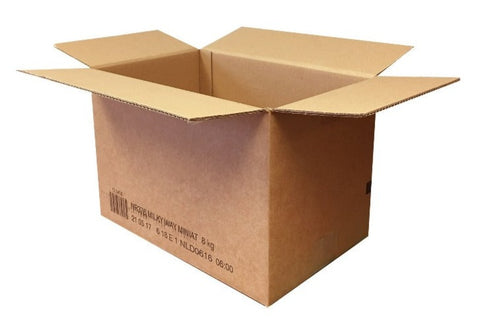 Used Printed Strong Double Wall Boxes
380mm x 250mm x 265mm
Free delivery
Free delivery to many areas. Enter your full postcode for delivery options.
This cardboard box withstood a 14st crush test. Watch the video above, to see this box in action. Made from a strong, EB flute double wall material. This is one of our all time favourite boxes.
Used boxes offer so much - cost savings, but also an eco friendly packaging alternative. Why waste money on new boxes from a manufacturer when you could have great quality, once-used boxes at a fraction of the price?
We are proud of our reuse scheme which diverts used cardboard boxes to the reuse market, preventing unnecessary waste and use of resources.
Condition: Used
Material: Strong Double Wall
Print Type: Printed
Dimensions (mm): 380 x 250 x 265
Dimensions (cm): 38.0 x 25.0 x 26.5
Dimensions (inch): 14.9 x 9.84 x 10.4
Volume (cm): 25175.0
Volume (m): 0.025175
Volume (Inch): 1536.272757
Volume (ft): 0.889046734
Orders received before 2pm will be despatched on the same day.

We deliver to all of our customers, using our own fleet of vehicles, along with parcel and pallet couriers. We deliver for free to mainland UK subject to a minimum order value. You can also order single pallet/pack consignments for a small fee.
Use our Free Delivery Checker above to see all options available.

Deliveries to Scotland and the Highlands may take up to 72 hours to arrive. For orders from Ireland and Northern Ireland please contact us first as you will need to arrange your own transport.

For more information visit our 'Delivery' page
X