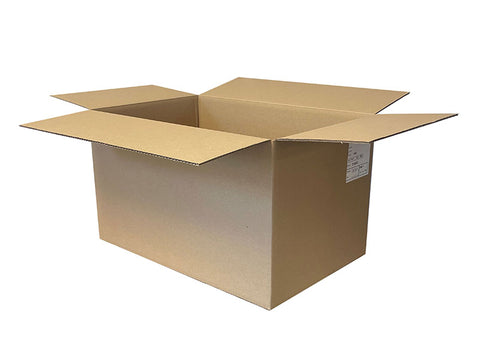 Used Plain Strong Single Wall Box
580mm x 380mm x 337mm
Free delivery
Free delivery to many areas. Enter your full postcode for delivery options.
Bulk Offer
Buy 4 pallets at only 48p each!
This is a fantastic used box available on regular supply, so if you are looking for a reliable source of cheap boxes of a medium size then this could be a match for you.

Used boxes are the most sustainable option for your packaging when shipping goods as reuse is the most environmentally friendly thing you can do with any item. Our boxes are typically used once, but they can be reused many times before eventually being recycled.

Sadlers specialise in reducing packaging waste by allowing high quality used boxes to be reused by others. We typically source from large companies and sell to small or medium sized businesses.

To ensure that this box appeals to different kinds of businesses, small or large, we have split the pallets down; if you require small quantities you can buy a half pallet which contains only 200 boxes (flattened and pallet wrapped). If you need more, a full pallet contains 400 boxes and offers a more competitive price. From time to time, this box is available on special bulk offer, giving volume purchasers an extra cost saving.

The box is plain with a small label attached which can be easily covered by your own label when sending goods out to customers. The 'strong single wall' classification means that it has a design that is stronger than a regular single wall box - as seen in the extra photo we have included.
Condition: Used
Material: Strong Single Wall
Print Type: Plain
Dimensions (mm): 580 x 380 x 337
Dimensions (cm): 58.0 x 38.0 x 33.7
Dimensions (inch): 22.8 x 14.9 x 13.2
Volume (cm): 74274.8
Volume (m): 0.0742748
Volume (Inch): 4532.526387
Volume (ft): 2.622989807
Orders received before 2pm will be despatched on the same day.

We deliver to all of our customers, using our own fleet of vehicles, along with parcel and pallet couriers. We deliver for free to mainland UK subject to a minimum order value. You can also order single pallet/pack consignments for a small fee.
Use our Free Delivery Checker above to see all options available.

Deliveries to Scotland and the Highlands may take up to 72 hours to arrive. For orders from Ireland and Northern Ireland please contact us first as you will need to arrange your own transport.

For more information visit our 'Delivery' page
X