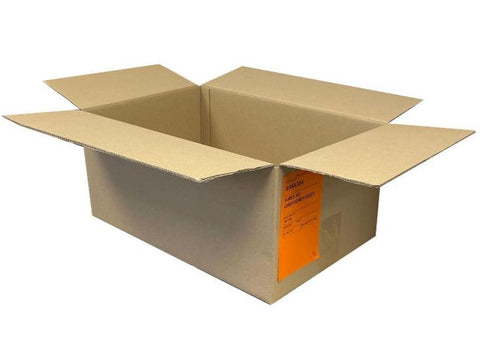 Used Plain Double Wall Box
564mm x 371mm x 255mm
Free delivery
Free delivery to many areas. Enter your full postcode for delivery options.
These fantastic used double wall boxes are available on regular supply. If they say 'out of stock', simply enter your email address in that notification section and you'll receive an automated email when they are back in.

Alternatively, you can contact us by phone or email to reserve some by placing them on backorder.

Second hand cardboard boxes offer an incredible way for you and your business to save money and reduce your overall environmental impact. Reusing packaging reduces vast amounts of waste, making it environmentally friendly and sustainable.

These boxes are plain with a label attached - simply affix your own label over these when shipping products out. The boxes measure 22.2" x 14.6" x 10" or 564mm x 371mm x 255mm (internal dimensions). They are excellent quality and hand-sorted by our warehouse team.
Condition: Used
Material: Double Wall
Print Type: Plain
Dimensions (mm): 564 x 371 x 255
Dimensions (cm): 56.4 x 37.1 x 25.5
Dimensions (inch): 22.2 x 14.6 x 10.0
Volume (cm): 53357.22
Volume (m): 0.05335722
Volume (Inch): 3256.057338
Volume (ft): 1.884292441
Orders received before 2pm will be despatched on the same day.

We deliver to all of our customers, using our own fleet of vehicles, along with parcel and pallet couriers. We deliver for free to mainland UK subject to a minimum order value. You can also order single pallet/pack consignments for a small fee.
Use our Free Delivery Checker above to see all options available.

Deliveries to Scotland and the Highlands may take up to 72 hours to arrive. For orders from Ireland and Northern Ireland please contact us first as you will need to arrange your own transport.

For more information visit our 'Delivery' page
X