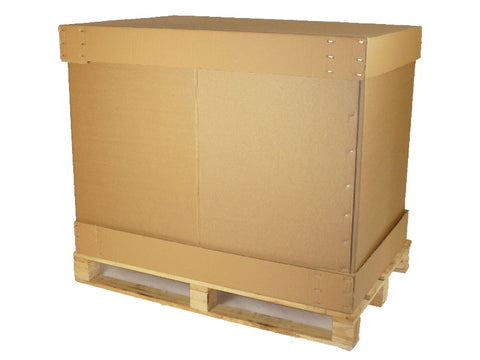 Pallet Boxes Including Pallets
1190mm x 990mm x 910mm
Free delivery
Free delivery to many areas. Enter your full postcode for delivery options.
Here we have standard size pallet boxes with once used 4-way entry wooden pallets. Why buy pallet boxes with brand new pallets when used pallets are substantially cheaper? The boxes themselves are brand new and superb quality. The pallets may be used but that does not lower the quality! We make sure that all of our recycled pallets are fit for purpose.

The once used wooden pallet measures 1200mm x 1000mm - a standard size for pallets and pallet boxes. For many applications pallet boxes are used for shipping materials to UK locations that do not require heat treated pallets, so there is no need to buy new export standard pallets when used ones meet your requirements at much lower cost.

We combine quality used 4-way entry pallets with a three part pallet box set which includes a sleeve, a bottom tray and a cap. The pallet box set is made from a double wall corrugated board and all components are stitched for added strength. Please note that the pallet is not attached to the tray.

Click on the video link to see how to assemble this product. It's easy when you know how!

See blog post: 'Your questions about pallet boxes answered'.

Note: we have recently launched a once-used pallet box with very similar sizing at a much lower cost. It has a removable panel for easy loading. Please take a look at XX135 used pallet boxes with pallets now to see if this is a suitable alternative.
Condition: New
Print Type: Plain
Dimensions (mm): 1190 x 990 x 910
Dimensions (cm): 119.0 x 99.0 x 91.0
Dimensions (inch): 46.8 x 38.9 x 35.8
Volume (cm): 1072071.0
Volume (m): 1.072071
Volume (Inch): 65421.78635
Volume (ft): 37.85983006
Orders received before 2pm will be despatched on the same day.

We deliver to all of our customers, using our own fleet of vehicles, along with parcel and pallet couriers. We deliver for free to mainland UK subject to a minimum order value. You can also order single pallet/pack consignments for a small fee.
Use our Free Delivery Checker above to see all options available.

Deliveries to Scotland and the Highlands may take up to 72 hours to arrive. For orders from Ireland and Northern Ireland please contact us first as you will need to arrange your own transport.

For more information visit our 'Delivery' page
X