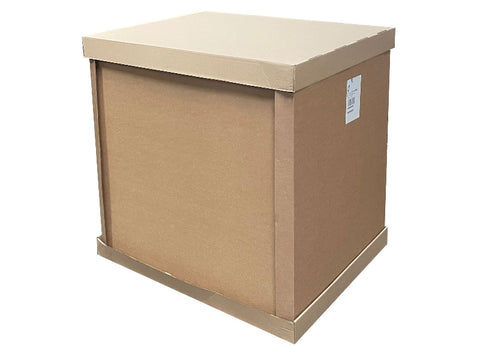 Used Open Side Pallet Boxes
1160mm x 920mm x 1170mm
Free delivery
Free delivery to many areas. Enter your full postcode for delivery options.
Bulk Offer
Buy 2 pallets @ just £5.99 each
This once used pallet box has an open side removable piece, along with a lid and base. It comes as four separate components. Please see the images provided. 
The construction of these open side cardboard pallet boxes with their access panel makes it easier to load and unload goods. We've added a video to show how it works.
This is a cheaper alternative to our BE165 brand new pallet box. As with the BE165 this is a double wall pallet box with single wall lid and base. These pallet boxes do not come with a pallet.
If you would like to purchase these pallet boxes with wooden pallets, take a look at XX135.
These come flat on a pallet when you buy them... they're made up already in the video purely for demonstration purposes.
Condition: Used
Material: Double Wall
Print Type: Plain
Dimensions (mm): 1160 x 920 x 1170
Dimensions (cm): 116.0 x 92.0 x 117.0
Dimensions (inch): 45.6 x 36.2 x 46.0
Volume (cm): 1248624.0
Volume (m): 1.248624
Volume (Inch): 76195.71144
Volume (ft): 44.09474042
Orders received before 2pm will be despatched on the same day.

We deliver to all of our customers, using our own fleet of vehicles, along with parcel and pallet couriers. We deliver for free to mainland UK subject to a minimum order value. You can also order single pallet/pack consignments for a small fee.
Use our Free Delivery Checker above to see all options available.

Deliveries to Scotland and the Highlands may take up to 72 hours to arrive. For orders from Ireland and Northern Ireland please contact us first as you will need to arrange your own transport.

For more information visit our 'Delivery' page
X