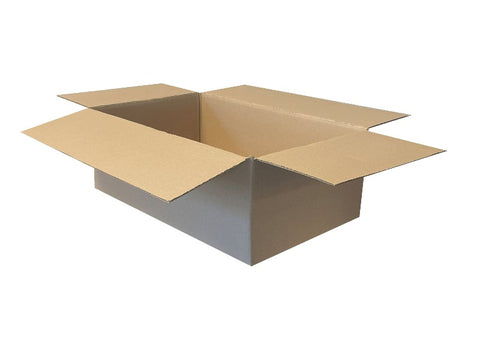 New Plain Strong Double Wall Box
558mm x 335mm x 190mm
Free delivery
Free delivery to many areas. Enter your full postcode for delivery options.
These double wall boxes are really strong - we've categorised them as 'strong double wall' because of their more robust wall construction than a regular double wall.
They have been purchased recently by a wide range of industries including automotive, farming and industrial retailers. 
They are priced extremely competitively and proving to be a very popular addition to our range.
Condition: New
Material: Strong Double Wall
Print Type: Plain
Dimensions (mm): 558 x 335 x 190
Dimensions (cm): 55.8 x 33.5 x 19.0
Dimensions (inch): 21.9 x 13.1 x 7.48
Volume (cm): 35516.7
Volume (m): 0.0355167
Volume (Inch): 2167.362011
Volume (ft): 1.254260423
Orders received before 2pm will be despatched on the same day.

We deliver to all of our customers, using our own fleet of vehicles, along with parcel and pallet couriers. We deliver for free to mainland UK subject to a minimum order value. You can also order single pallet/pack consignments for a small fee.
Use our Free Delivery Checker above to see all options available.

Deliveries to Scotland and the Highlands may take up to 72 hours to arrive. For orders from Ireland and Northern Ireland please contact us first as you will need to arrange your own transport.

For more information visit our 'Delivery' page
X