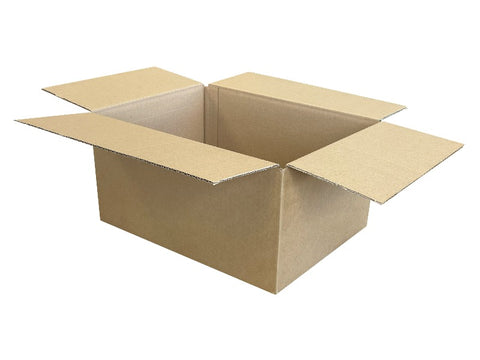 New Plain Single Wall A4 Box
305mm x 229mm x 152mm
Free delivery
Free delivery to many areas. Enter your full postcode for delivery options.
With 2,000 boxes per pallet, these are suitable for businesses with high volume shipping needs, or those who can store a pallet of boxes and use them over time. For smaller quantities try a half pallet. Both options offer cost savings compared to brand new. These are new but have been rescued from a company that no longer needed them, so are a more environmentally friendly solution.
This is a slightly smaller version of the standard A4 size cardboard box. Measuring 12" x 9" x 6", this box is ideal for those packing A4 literature, or light, bulky items. Made from a single wall board grade, this box performs best when it has been filled to capacity.
If you are a regular customer of AB963 12" x 9" x 6" you'll find that these are the same size but a slightly cheaper alternative, while stocks last.
Condition: New
Material: Single Wall
Print Type: Plain
Dimensions (mm): 305 x 229 x 152
Dimensions (cm): 30.5 x 22.9 x 15.2
Dimensions (inch): 12.0 x 9.01 x 5.98
Volume (cm): 10616.44
Volume (m): 0.01061644
Volume (Inch): 647.8549177
Volume (ft): 0.374916040
Orders received before 2pm will be despatched on the same day.

We deliver to all of our customers, using our own fleet of vehicles, along with parcel and pallet couriers. We deliver for free to mainland UK subject to a minimum order value. You can also order single pallet/pack consignments for a small fee.
Use our Free Delivery Checker above to see all options available.

Deliveries to Scotland and the Highlands may take up to 72 hours to arrive. For orders from Ireland and Northern Ireland please contact us first as you will need to arrange your own transport.

For more information visit our 'Delivery' page
X